Entering data:
Saving Personal setups for future loading
Only for bikes that are already present in the database, you can change all input fields and save them in a personal setup cookie for the loaded bike. This procedure does not not work for bikes that are not in the database and for which all data was entered manually: a 'Personal Setup' can only be linked to an existing bike in the database ! As saving uses browser cookies, make sure your browser has cookies enabled and does not delete them at the end of your session (closing browser tab) or when you close the browser.

Saving a Personal Setup makes it possible to load that same bike in 2 ways:
1) With default values from the GC database (Use the 'Load Bike Gearing' button)
2) With YOUR changed and saved values (Using the 'Load Personal' button)

This way you can load your bike with all your changes already entered in the fields without having to change them manually every time you use the Gearing Commander. Save your Personal setup for future loading like this:
Load your bike from the presets
Select preferred Units and Decimals if not yet set correct.
Change Current fields to reflect the current setup of your bike
Change Custom fields to reflect the changes you are considering.

A message appears confirming saving your personal setup was successful: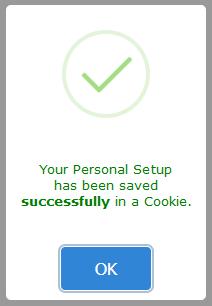 Remember, you can only load this data again if the Gearing Commander cookie is still on your computer ! When you or a browser add-on or browser configuration deletes your Gearing Commander cookies, you won't be able to load this data until you save it again. So make sure you do not automatically delete browser cookies when closing your browser. Most browsers and 'cookie-autodelete' addons can be configured to make an expception for deleting cookies for specific websites.
Next: Loading Personal Setup

Back to Gearing Commander main page