To be able to use the Gearing Commander on say a race track where there is no Internet connection, you can install the Stand Alone version on your laptop (or desktop). This Stand Alone version works the same way this online version does, including Personal Setup's and all graphs. It also uses the same interface, your Internet browser. Only difference is that you can use the GC even when you are offline ! Another advantage of the Stand Alone Version is being able to save all the graphs to you desktop as a png, jpg of even as a pfd-file ! And all annoying ads will be removed of course.
To be able to use the Stand Alone Version you need to run a Windows OS and install Google Gears1 (free)
and either 'Internet Explorer 8' or 'FireFox 3.6'.
Do NOT use Chrome, IE9, IE10, IE11 or a FireFox version other than 3.6.xx as they do not support Google Gears anymore !
The Stand Alone Version is only available for Gearing Commander 'Site Supporters'. When you show your appreciation for the GC by supporting the site, we show our appreciation by giving you access to the Stand Alone Version install page and also to 1 free Service or Owners eManual2 of the database entered bikes !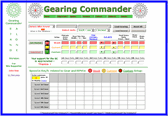 <--- click to see screen shot
So support the site and get access to the Stand Alone Version
and 1 eManual of choice for free !


Click logo below to be taken to the support page




1) Unfortunately Google Gears is deprecated and no longer supported by Google. However I do have a Windows installer for Google Gears which only works with Internet Explorer 8 (Windows 7 only) or Firefox 3.6 (Windows 7 and Windows 8.0 & 8.1 and Windows 10). This means that I can only offer the Stand Alone version to users running Windows. They need to install either Internet Explorer 8 (Windows 7 only !) or Firefox 3.6 alongside their current default browser.

2) You can choose 1 electronic manual from all database entered bikes. The information I have available varies from an owners manual, a service manual, the technical specifications, just parts of these or nothing at all for 'Not Verified' bikes. Check the 'History' menu option to find out what I used to verify the entered gearing data. In any case you can choose another bike if you want to. The file will be made available for download or will be e-mailed to you.